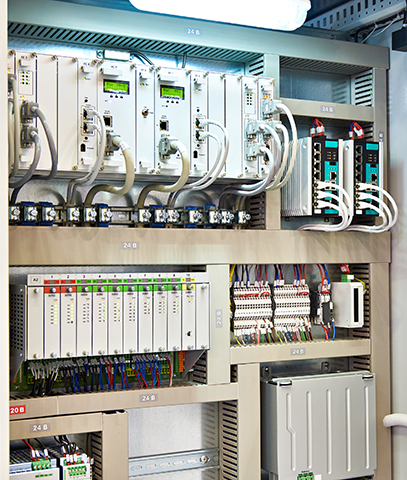 Xpect Solutions Guide to Industrial Control Panel Design
UL508A Industrial Control Panels- Design
Control panel design for industrial process control equipment and machinery is an important task, resulting in a complex design to control a machine or process. Most Industrial control panels consist of power circuits and multiple voltage control circuits which provide signals that direct the operation of machinery, robotics or equipment. Industrial control panel design begins with weighing design requirements and written specifications to prepare schematics. However, the design process can be quite complicated to ensure that all regulatory standards and safety requirements are taken into account.
Open and Enclosed Industrial Control Panels – Schematics
The process should always begin with an evaluation of the specifications, requirements, and regulatory standards. After these considerations are evaluated, drawings are created to outline the specific configuration of wiring, circuits, controls, electrical components and every other aspect of the final industrial control panel. The electrical schematic is the infrastructure for a successful industrial process control panel. Good panel design addresses both the electrical design and physical requirements. All electrical drawings should include but not be limited to:
Control cabinet selection and back panel layouts
Power distribution
Control power distribution
I/O (Input/Output) diagram
Bill of materials (BOM)
UL508A Panel Shop – Documentation During the Proposal Process
One of the most basic but important things a panel builder can do is document key project elements as part of the proposal process. This puts in writing everything that has been discussed to be sure both sides are clear on all aspects of the machine's design and installation due to the complex nature of the design. The documentation should include the customer's specifications and requirements, national and local standards and codes that apply to the project and the proposed machine solution and project estimate. And above all, documentation should never be held back from the customer. All files — PDF schematics, bills of materials and calculation sheets — should be provided to the customer to assure safe installation and understanding of the design process in case on-site changes are required by an outside source. Contact Xpect Solutions today for more information and guidance on the industrial control panel process!